Next Show
| | | |
| --- | --- | --- |
| Saturday 16th March 2019 | NL version | E version |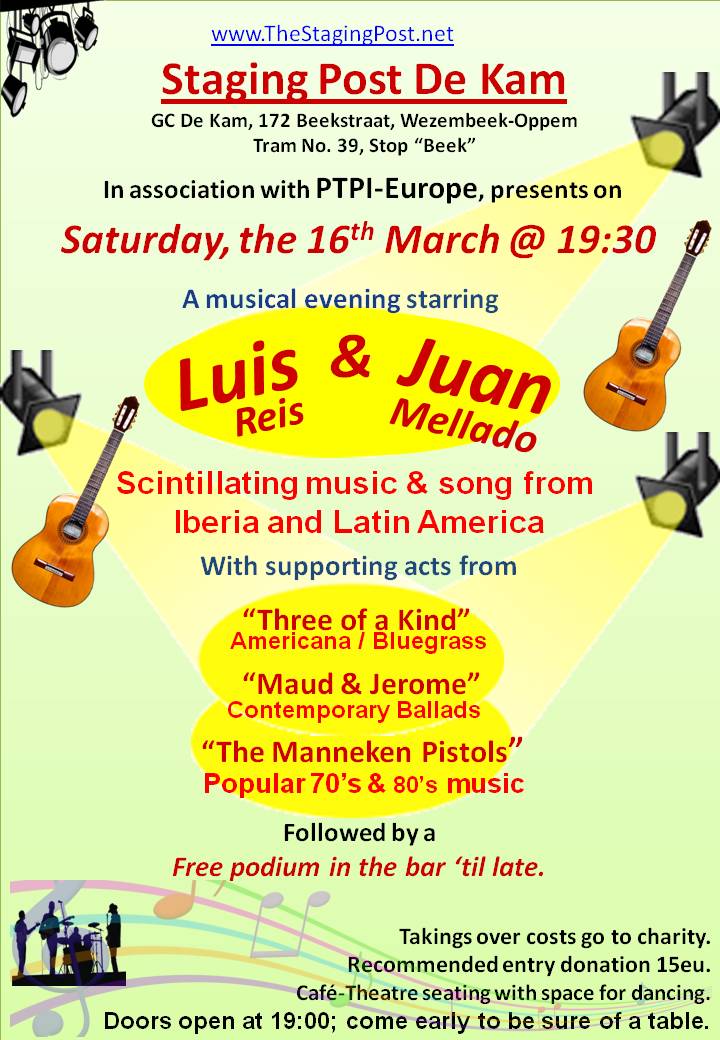 Please note we shall start at 19:30
NB: Two tickets to "Shrek The Musical" to be won!
The main act. Two very experienced ex-pat, local musicians, Luis Reis from Portugal and Juan Mellado from Spain, meet to play the music of their countries and of Latin America. Whilst you relax in our café-theatre environment, their highly professional performances will doubtless bring back memories of holidays in Portugal, Spain and Latin America. To complete the experience, you can even get your Margaritas and Tequila Sunrises from Koen in the bar.
Our supporting acts will be:-
Bluegrass and other Americana from "Three of a Kind". We have seen this multi-national, local group of Dobro guitar enthusiasts previously on the De Kam stage. But this time they are four! Dominic Lambin - Belgian, Wolfgang Entmayr – Austrian and Reg Green – Anglo-Belge are joined by Ana Vinas from Spain. For anarchic reasons, Ana does not want them to change the group's name.
Contemporary ballads from a new, Liege-based, Belgian duo, "Maud & Jerome": - the lovely voice of Maud Lafontaine is backed by the excellent guitar playing of Jerome Marciniak. Maud and Jerome have appeared once before at De Kam two years ago, as a members of "Martin & Company".
70's and 80's music from a sub-set of the expat, local group, "The Manneken Pistols", who gave us such a great performance as the main act back in November 2017. Let's see if they can get you dancing.