Next Show
| | |
| --- | --- |
| Saturday 17th November 2017 | Nederlands versie hier |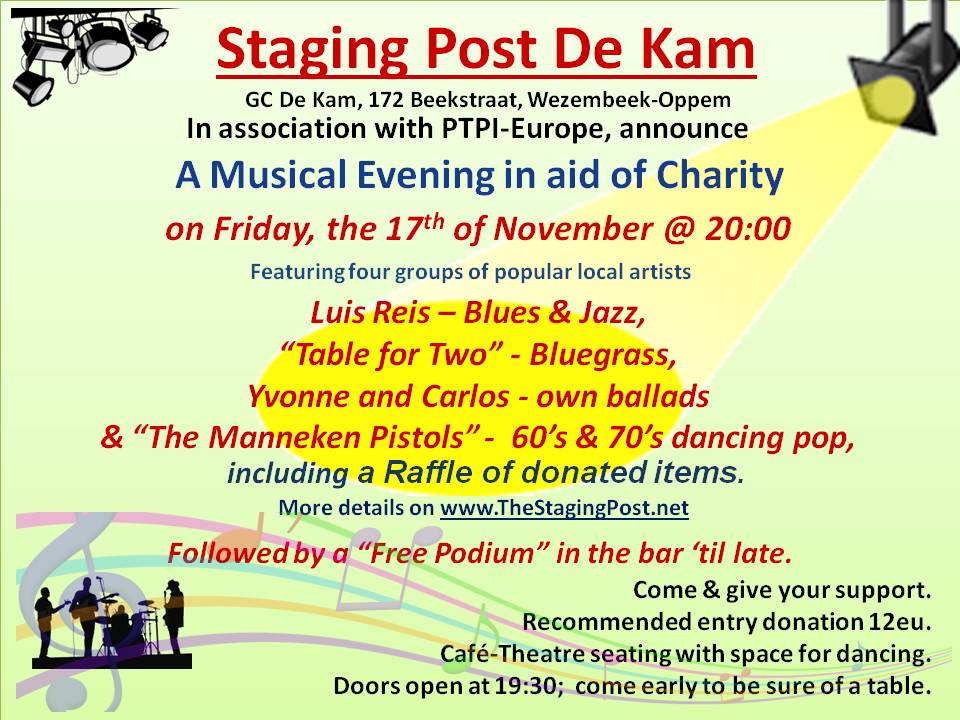 Charity Show - After consultation with our supporting organisation, PTPI – Europe (People To People International), we have decided to support the "Little Sisters of the Poor", a charity working in Belgium and other parts of the world that runs care homes for the elderly whom have no family or resources to look after themselves. The donation will be made after the show, once all bills have come in. The donation made will be announced on our web-site http://www.thestagingpost.net/ under Previous Shows.
Artists - All of the artists for this charity show are well established in the Brussels area and are offering their services for no payment.
"TABLE FOR TWO" - Danish and Belgian talents join forces in this new and exciting bluegrass duo. Signe Borch (of "Tenderhearted") on guitar and Thierry Schoysman (of "Rawhide" and "The Sons of Navarone") on banjo/mandolin will share with you their love for close harmony singing as well as some unusual instrumentals.
LUIS REIS presents blues and ballads that are at the origin of jazz music. LUIS has a history of playing blues and jazz in numerous places of repute, from the Hot Club do Portugal to Italian television and American jazz clubs. We can now enjoy him in Brussels where he has been living for the last years.
YVONNE & CARLOS - We welcome again the charming Yvonne Stausbol who will delight us with songs from her album 'Out of the Whirlwind' as well as unrecorded ones. Yvonne will present her portraits of life through gentle melodies and heartfelt lyrics, arranged and accompanied by the talented Carlos Parra. A late-comer to song writing, Yvonne's story telling style is naturally simple and authentic.
"THE MANNEKEN PISTOLS" was formed by guitar teacher Mark Baxter (see http://www.guitarlessons.be/) and is composed from a group of about twenty musicians playing the Brussels scene. See http://www.mannekenpistols.be/. For this show, a subset of the band, about 10 in all, will be playing, so don't be surprised to see musicians rotating. They will be playing mostly 60s and 70s popular music for the last hour, so, bring your dancing shoes and go for it!
Raffle - As is usual for charity shows, we shall be holding a raffle of items which our audience generously contributes. Please give anything you wish to contribute to the raffle to William "The Hat" Dantzer, before the show begins. Any questions on the raffle may be addressed to William on This email address is being protected from spambots. You need JavaScript enabled to view it..
Free Podium - After the show, activities continue with a Free Podium in the bar, where it has been known for things to be swinging until 4am. The last no. 39 tram is at about 1am, but check it. Bring your voices and instruments along!
General – If you are reading this on our web-site and wish to be included in our mailing list, please use the Contact tab of the web page. We are on Facebook too. You can join our group via https://www.facebook.com/groups/TheStagingPostDeKam/.