Next Show
Saturday 16th September 2017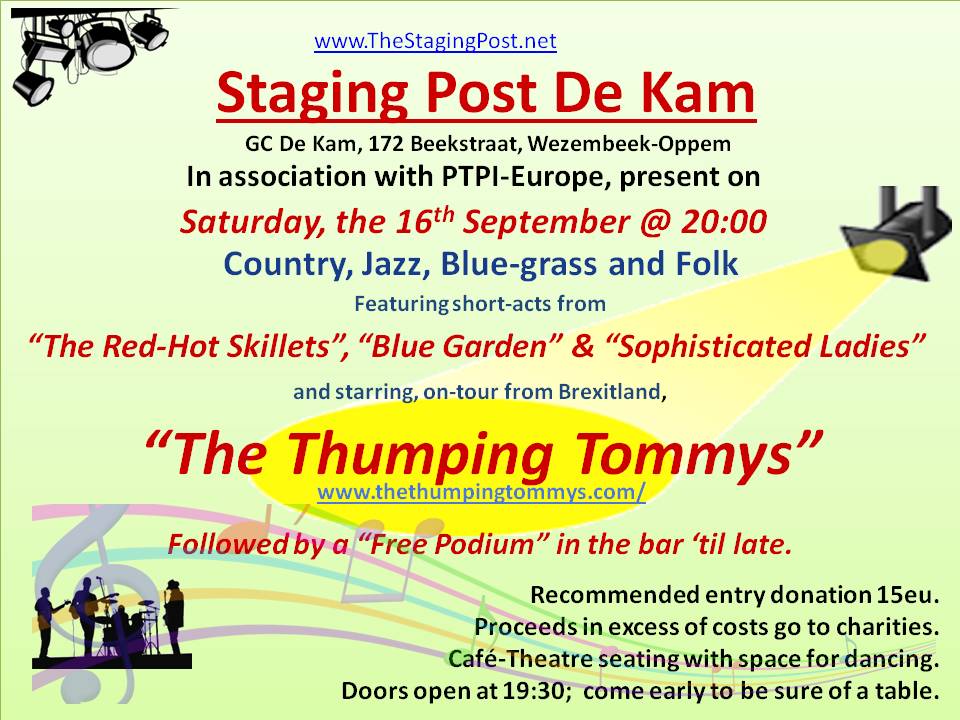 Main Act
"The Thumping Tommys" – Alex Hunter, banjo and vocals; Benedict Scrivener, Guitar and vocals; Giles Casswell, mandolin, spoons and washboard; Geoff Threadgold, bass.– On tour from the UK, and doubtless on their way up to Bergen in Norway where they are very well appreciated and where they made their last CD. We can look forward to a riotous evening in a "folky"/"jazzy" style.
Short Acts
"The Red-Hot Skillets" – Dennis and Dominic Landsbert-Noon – Some of you will remember Dominic from last November's show when he and Laura Ford gave us a great fore-taste of what to expect in what turned out to be a Broadway-standard production of the musical "Joseph and the Amazing Technicolor Dreamcoat" last January. (Dominic played Joseph and Laura was the Narrator. Dennis was the Stage Director). Dennis teams up with his son on-stage again in a rebirth of their old group to give us some great "Americana". What a talented family!

"Blue Garden" - Dominique Lambin, Fabrice Estiévenart, Mathieu Delehaye, Luc Berthe. We heard Dominique in the last show as a member of "Three of a Kind". "Blue Garden" is the other band with which he plays and we look forward to some great "Bluegrass" music.

"Sophisticated Ladies" – What else could you call the combination of Roosje Christiaens and Elizabeth Flynn? No strangers to this stage, they will entertain us with some great Jazz numbers.