Next Show
-->
| | |
| --- | --- |
| Saturday 22nd June 2019 | NL version |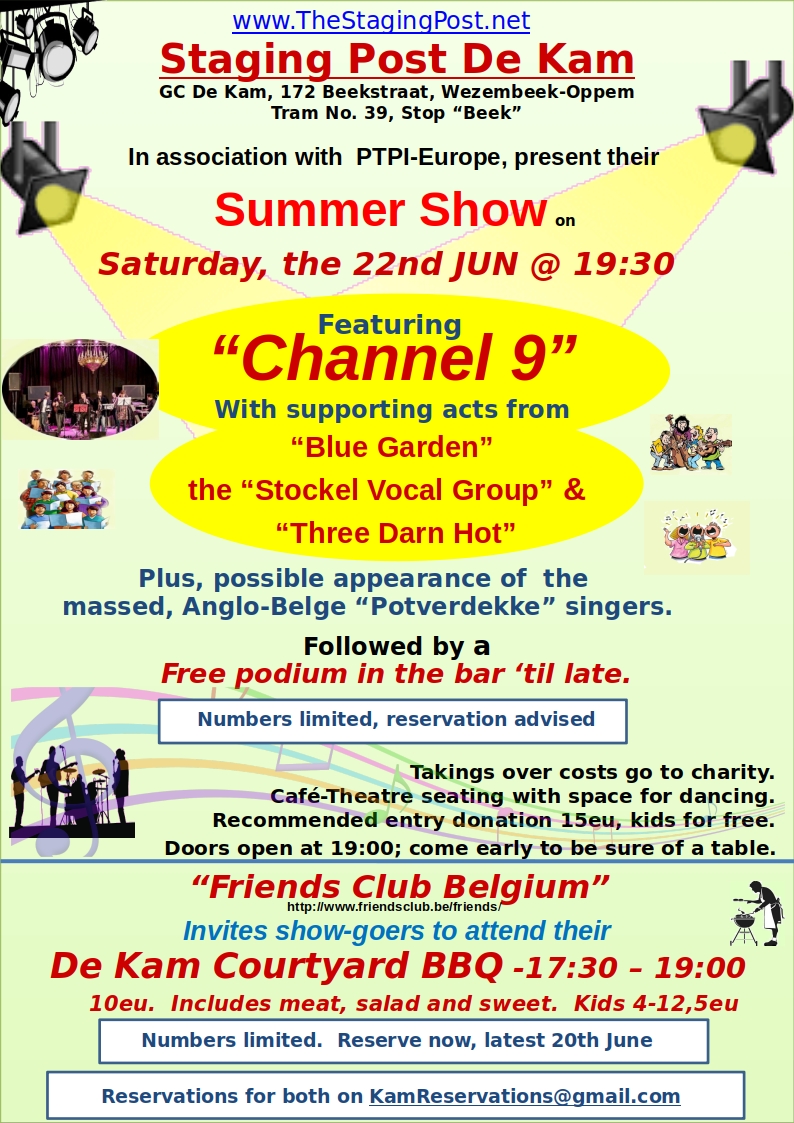 SUMMER SHOW & BBQ, Saturday 22nd June.
PLEASE NOTE: THE BBQ WILL START AT 17:30 AND THE SHOW AT 19:30.
RESERVATIONS ARE NECESSARY FOR THE BBQ AND ADVISED FOR THE SHOW.
The main act will be from "Channel 9". This very popular, multi-national, local group played at last September's Charity show, so we know we can look forward to great music and dancing again.
Our supporting acts will be:-
Bluegrass and other Americana from "Blue Garden" - four young Belgians playing fiddle, banjo, bass, standard and dobro guitars.
High-class interpretations of classical pop from the "Stockel Vocal Group" formed from her students, and led by Tina.
"Three Darn Hot" Andrews Sisters numbers sung by Lisa, Helen and Andrea and backed by a quartet of sax, keyboard, bass and percussion led by Ludo Goubert.
Numbers are limited so reservations for the show are advised on This email address is being protected from spambots. You need JavaScript enabled to view it.. Please note, we do not expect any payments for children.
The De Kam Courtyard BBQ by "Friends International Belgium" will be serving food from 17:30 to 19:00 and show-goers are invited. Meat, salad and sweet will be included in the price of 10eu, children 4-12 yrs, 5eu. Reservations are necessary by the 20th June at the latest, by email to This email address is being protected from spambots. You need JavaScript enabled to view it..
There may well be a manifestation of massed, Anglo-Belge, "Potverdekke" singers. The phenomenon of "Potverdekke" singing has been increasingly observed amongst the Anglo community since the BREXIT debacle began. Massed "Potverdekke" singing is a bit like a Flash Mob. We believe the singers have recently obtained Belgian nationality. Of course, you don't have to be a Belgo-Brit to participate. If you would like to participate, please let us know by email to This email address is being protected from spambots. You need JavaScript enabled to view it..