Next Show
| | |
| --- | --- |
| Saturday 14th September 2019 | NL version |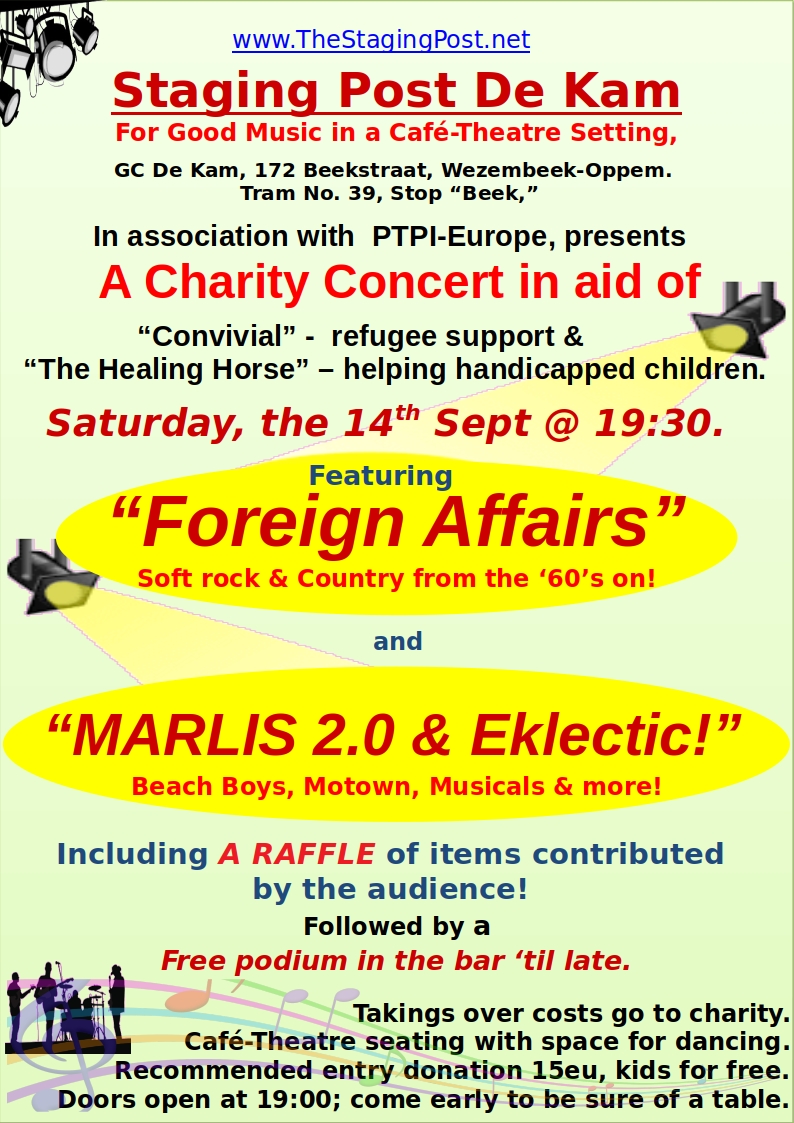 The next show will be a Charity Show featuring "FOREIGN AFFAIRS" as the main band and "MARLIS 2.0 and EKLECTIC". The bands are playing for free and there will be a raffle of items donated by you, the audience. Takings over costs from this show and previous shows since the last charity show will be donated to a named charity or charities. Our last charity show was in September 2018 and "Wardies Way" charity for research into children's cancer was supported in commemoration of Kjeld Jensen. This time we will support "The Healing Horse" out of Tervuren, who work with handicapped children, https://www.thehealinghorse.be/, and "Convivial", a charity in support of refugees, https://www.convivial.be/.
William will be running the RAFFLE of items donated by the audience, during the evening. Please bring along anything you would like to contribute as a prize, and hand it to William and his staff when you arrive.
This show will be special in as much as it will feature Marjolein Kluen-Gabel and Dave Skinner, two of the founder members of the Kam Klub, the parent club of the Staging Post, Kjeld being the third. Marjolein will be appearing as part of MARLIS-2; Dave will be appearing as a member of "FOREIGN AFFAIRS". Please put it in your diaries now.
How many of you remember "MARLIS"? MARLIS was formed by Marjolein, now of Den Hague, and Lisa Armetta (now of "Three Darn Hot") many years ago and gave us some really good shows, mainly extracts from musicals such as "Cabaret", "Sisters", Chicago" and others They broke up when Marjolein returned to the Netherlands and Amanda moved to the USA. Well, Amanda is now getting married and the MARLIS girls are going over to sing at her wedding. "MARLIS 2.0" has been formed for that event, consisting of Marjolein, Lisa, Sari from Finland and Maria from Oxford. So, backed by the band "Eklectic" formed by Elizabeth Flynn, we can expect some really, good music.
This is the first outing for "EKLECTIC" – its members have all performed with each other before, but never in this configuration – they are a very international group, hailing from Norway, Finland, Scotland, England, Canada, the US, The Netherlands, as well as Belgium, and each musician brings experience in several genres, hence the choice of repertoire for this event, from show tunes to blues to funk, from Marvin Gaye to The Beatles to The Beach Boys, in other words, something for everyone
"FOREIGN AFFAIRS", veteran ex-pat band, well-known and loved in Brussels, will play the last two sets presenting "soft rock from the 60's on" in their usual inimitable style, so bring your best dancing shoes. https://www.facebook.com/search/top/?q=foreign%20affairs&epa=SEARCH_BOX.